Trade waste collection
We provide a low cost, flexible and responsive trade waste collection service throughout the Copeland borough to both small and large producers of commercial waste.
We offer free advice on suitability, container location, collection and all other aspects of trade waste that could save you money.
• Competitive prices
• No VAT to pay on collections
• Low cost waste transfer note
• No hidden extra costs
• Service tailored to your needs
• Reliable, flexible service
• No lengthy tie-in
• Collections available seven days a week (where viable)
• Local, knowledgeable staff
• Waste is not sent to landfill
Choosing a service that is right for you
We offer a variety of collection methods. This means that we can provide a service that suits your business, at competitive rates.
Wheeled containers are available in a range of sizes. The containers are durable and the larger sizes come with lockable lids and brake mechanisms. The charge depends on the size of bin and number of collections. Unlike many private waste management firms, we don't charge separately for container rental. Wheeled containers are suitable for larger businesses and for pubs, restaurants and food outlets where wet or food waste is generated.
Trade sacks can be purchased and are available in packs of 25, 50, 100 or 200. Trade waste should then be placed inside the sacks for collection. This service is ideal for small businesses generating limited quantities of waste, or where storage for containers may be restricted. There are no additional charges.
Trade sacks can be purchased by contacting us, or in person at the Market Hall, Market Place, Whitehaven CA28 7JG (debit/credit card needed)
Whether you choose a container or trade sacks you will require a 'Waste Transfer Note' to comply with your 'Duty of Care' and a small annual fee will apply for this documentation.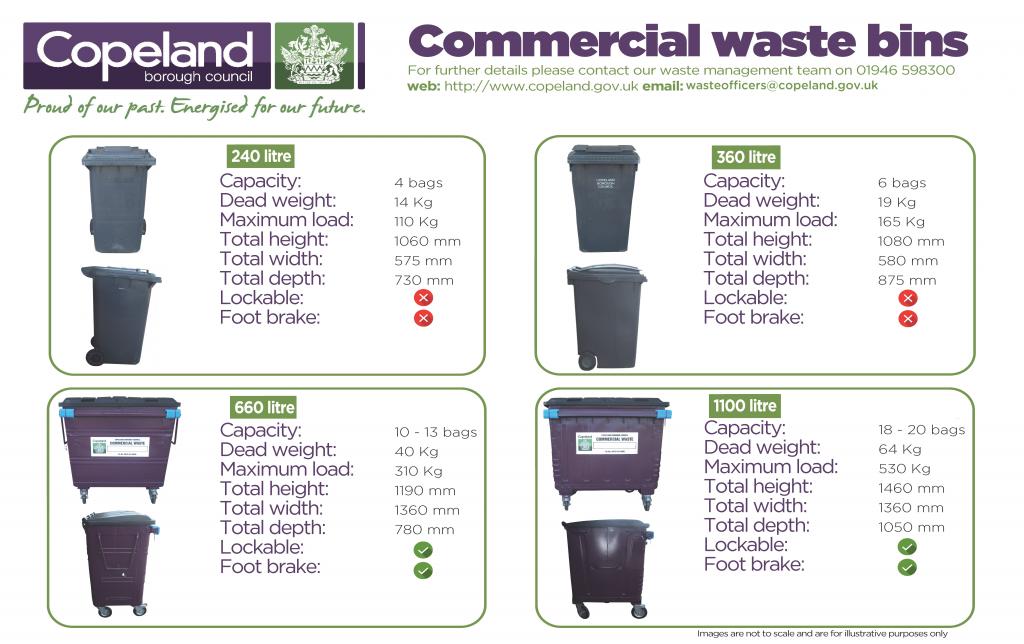 Your business and the law
As a business any waste you generate is trade waste and you have a duty to store and dispose of your waste responsibly. Please note that your non-domestic (business) rates do not cover the cost of waste collection or disposal.
To ensure that you are not breaking the law:
• Store your waste securely, either in a bin or a bag within your property
• Employ a licensed, reputable company to remove your waste
• Check the company has a valid waste carriers licence
• Ensure that you have a waste transfer note to show how your waste is dealt with and keep these documents for at least two years
All commercial premises must comply with the Waste Duty of Care as laid down in the Environmental Protection Act 1990. For more information visit the Gov website, or the Environment Agency website. Trade waste must not enter the domestic waste stream.
A breach of this duty of care is a criminal offence and carries a fine up to £5,000 or an unlimited amount if taken to Crown Court.
Trade waste contract enquiry
CLICK HERE FOR THE TRADE WASTE ENQUIRY FORM
Please provide us with your details and any questions you have about trade waste collections. We'll get back in touch with you, normally by the next working day.
Contact us
To find out how our service could help your business or for information on prices, please give us a call on 01946 598300 and ask for Trade Waste, or email us at wasteofficers@copeland.gov.uk.
Report a missed trade collection or damage to a trade bin
To report a missed trade waste collection or report damage to your waste trade bin, please provide the address, location and number of bins and/or any details of damage to us at 01946 598300 or via email at wasteofficers@copeland.gov.uk.
Published:
23 November 2015 - 3:54pm