THE FUTURE is bright for Copeland pupils as they graduate from innovative award scheme.
In total 110 students from Bookwell School, Egremont, and St James' Junior School, Whitehaven have completed the Junior Award Scheme for Schools (JASS). These are the only students to complete the programme and be presented with a JASS Bronze Award in West Cumbria.
The students, aged seven to 11, have undertaken an 11-month programme which aims to support young people on their journey through school by teaching them valuable life skills.
JASS focuses on four key themes for the children designed to develop confident individuals. The pupils are tasked with exploring:
My interests – which encourages pupils to develop an interest that they already have or learn a new skill.
Get active, stay active – asking pupils to take part in sport and physical activity. Students from Bookwell School took part in an open water swim, 100 mile challenge and a game of wheelchair basketball.
Me and my world – encouraging pupils to contribute to their local community. Pupils from St James' School donned mini high visibility vests to clean up their community by organising litter picks.
Adventure – in which all the pupils learned skills through activities such as canoeing, orienteering, and bush craft.
Alongside the activities on offer, the children also learned about safety in their community covering topics such as "stranger danger", road safety and internet safety.
Russell Hardy, Head Teacher at Bookwell School, said: "JASS has been really useful this year in helping the children focus on their own abilities and allow them time to reflect on activities that challenge them.
"The children loved the individuality of the scheme but it also allowed them to work together in activities they wouldn't normally do.  
"They enjoyed having all the visitors that helped them complete their award. Every child was able to be included and could be adapted to all their needs."  
Mr Beattie, Head Teacher at St James' Junior School, said: "We were delighted to be invited to get involved with this project. 
"It has allowed us to plan a whole range of outdoor activities including bread making and canoeing; these were two of the particular highlights from children and was something many had never tried before. 
"The children have really enjoyed working with members of the police including sharing their thoughts about their community and, importantly, how they can play an active role in serving our community and making Whitehaven a lovely place to live."
The JASS programme is run by Copeland Hub, and sponsored by Morgan Sindall Infrastructure and KAEFER Ltd.
Gillian Johnston, Morgan Sindall Infrastructure's Community Engagement Advisor, said: "It has been a pleasure to work with Copeland Hub to sponsor and support St James' Junior School throughout their JASS journey.
"The children have worked hard and embraced the programme every step of the way."
As part of its sponsorship offer KAEFER delivered a 'Scaffold the World' workshop which showcased a variety of career options for the children in the future, including scaffold design engineering, quantity surveying and project management.
A spokesperson for KAEFER said: "KAEFER has been delighted to have sponsored the JASS scheme this year alongside Morgan Sindall Infrastructure.
"The scheme encourages children to think about themselves both personally and academically, as well as having voluntary, career, health and fitness, safety and environmental messages imbedded.
"We delivered 'Scaffold the World' to Bookwell School children who seemed to really enjoy the day and take some valuable skills away.
"We are pleased to hear that every child has passed the scheme and received their JASS Bronze Award – thanks to Copeland Hub for facilitating this brilliant scheme."
Copeland Hub is a partnership created by Copeland Borough Council and Cumbria Constabulary, and supported by the Police and Crime Commissioner, which works together with partner agencies to tackle anti-social behaviour and organise community projects.
Roxanna Schofield, Copeland Hub Co-ordinator, said: "We have watched students push themselves when faced with new challenges and learn some valuable skills along the way.  We are proud of each and every one of them for completing their awards."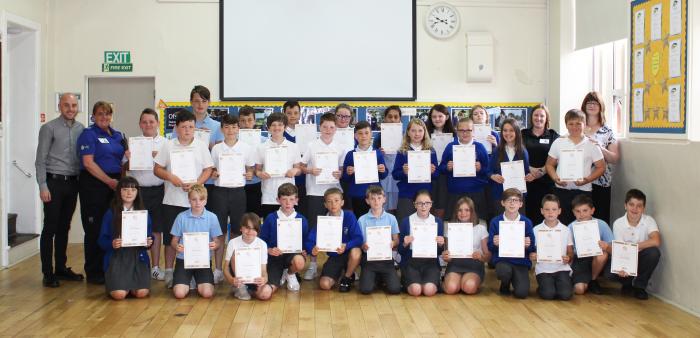 Published:
19 July 2019 - 9:24am