Site Allocation document – Sustainability Appraisal Draft Scoping Report
We are now embarking on the process of producing a site allocation plan. This will allocate the land which will form the Borough's development land portfolio for the next 15 years. It will be subject to at least two stages of public consultation, and public examination by a Planning Inspector. When finished, it will sit alongside the Core Strategy and Development Management Policies to form the Copeland Local Plan 2013-2028.
The plan must be subjected to a Sustainability Appraisal, to make sure it will have the right environmental, economic and social impacts. This draft Scoping Report explains the process, and has been submitted for comment to the three statutory bodies- Environment Agency, Natural England, and English Heritage – who oversee the process.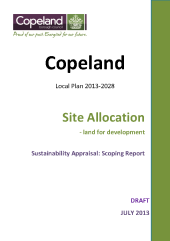 Published:
12 July 2013 - 9:25am