Terms and conditions attached to a private hire vehicle operator's licence. Please make sure you are aware of the contents of this document before you apply for a private hire vehicle licence.
Private Hire Operators Licences last for a period of 3 years. Private Hire Operators are required to keep a register or permanent book giving full details of every booking taken which may be inspected by the Council or the Police at any time.
The application form should be completed and submitted together with the appropriate licence fee. Private Hire Operators are required to have an operating base within the Borough of Copeland.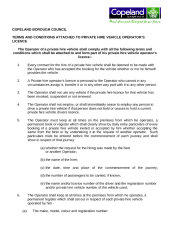 Published:
23 October 2012 - 2:12pm