Form to use to apply for a premises licence.
You will need to apply for a new premises licence if you want to sell alcohol, provide regulated entertainment or late night refreshment (the supply of hot food or hot drink to the public between 23.00 and 05.00) in England and Wales. Applicants must not be under 18 years old. Regulated entertainment is defined under the Licensing Act 2003 as follows:
a performance of a play
an exhibition of a film
an indoor sporting event
a boxing or wrestling entertainment
a performance of live music
any playing of recorded music
a performance of dance
entertainment of a similar description to a performance of live music, any playing of recorded music or a performance of dance
The above is only considered to be regulated entertainment if it takes place in the presence of an audience and is provided for the purpose of entertaining that audience.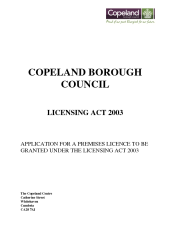 Published:
24 October 2012 - 9:15am